Melissa Currier, Owner – MBA, BS, RYT® 200, CorePower Yoga L1, CF-L1 Trainer, APA 1 Land and Aquatics Group Fitness Instructor, CPR & Pound Pro
My first yoga class fourteen years ago was a heated Ashtanga Primary Series class and I immediately loved it! I knew that yoga was something that my body and mind needed to be healthy. Years of lifting weights had taken a toll on my body and my flexibility. Two years later, after a regular yoga practice, I could finally touch my toes:)
I have been teaching yoga classes for over seven years, and have been teaching in the fitness industry for fourteen. After contemplating opening a studio for years, I finally decided to go for it (with a little push from my supportive husband)!! I am very passionate about helping others feel strong and confident in their abilities. I am grateful for all of the students that I have had over the years, and all of the things that they have taught me. There is always something new to learn!
My other passions include weightlifting, fitness competitions, biking, reading, and basically anything outdoor related. I am very excited for this opportunity to be able to teach alongside all of the talented instructors at Spearfish Yoga & Strength Studio.
---
Ann Herman – Yoga Calm Certified, Advanced training at the Yoga Center of Minneapolis, SUP Yoga and Fitness, & Master's in Counseling.
I am new to Spearfish, the outdoors and biking drew my family out west from Minneapolis. My first yoga class was 26 years ago in a small studio in Manhattan. Since then, I moved to 4 different states, have 3 kids, 2 much stuff :), and 1 husband who cultivates my sense of adventure. My yoga practice has kept me grounded during life's often chaotic journey. I am so excited to offer a variety of classes that center around yoga, fitness, and fun.
---
Nicole Douglas
I started practicing yoga at the age of 26 after the realization that I was not able to bend forward and touch my toes. I have been active in yoga for over 18 years. I mainly practice Hatha yoga. My favorite style is a "mash up" of Ashtanga and Vinyasa yoga but I love to learn about and try all branches and varieties of yoga.
---
   Sara DeBeaumont – RYT® 200
I fell in love with yoga when I was a stay-at-home mom seeking inner peace and exercise. Over the years, my practice has helped me grow stronger; both mentally and physically. I began teaching yoga in Spearfish in 2006, and am so grateful for all the students I have worked with, and for the lessons they have taught me. I recognize yoga means different things for different people, so I try to provide a lighthearted environment where everyone can feel comfortable on their mat. My counseling background has helped me understand how powerful the benefits of a yoga practice can be; moving with your breath, and quieting the mind in order to grow, to listen to, and to be fully present in your body.
---
   Ashley Anderson – CorePower Yoga L1
I am an elementary teacher by day and fitness instructor by night (and early mornings)! Yoga has been a routine part of my life for the past 7 years. It truly "balances" me with my busy schedule and the other recreational activities I enjoy including biking, running,  strength training, and many other hobbies the Spearfish outdoors provide. My love for biking has helped me grow as a cycling instructor. Indoor cycling has helped maintain my fitness in the winter months, and it has greatly improved my performance as a cyclist. Incorporating yoga (as well as weight training) into training for endurance events has helped me stay strong and injury free. As an instructor, I strive to continue to learn and improve practice while sharing my passion with others.
---
Lindsey Jones
When I graduated from BHSU in 2004, I was drastically overweight and out of shape. Having been an athlete in high school, I decided to take back my health. I began small with elliptical sessions and weight machines and eventually progressed to running. It worked for the weight loss (I had lost 60 pounds), but I didn't have much for strength or muscle mass; plus, being thinner didn't make me feel healthier. I still wasn't sleeping at night and had a myriad of digestive problems.
That's when I began taking boot camp and kettle bell classes at Destination Health. Lifting kettle bells changed everything for me! I was able to build strength without bulk; my flexibility AND cardio improved, not to mention my overall health. I eventually began teaching a few classes at DH, and found that I could learn from my students as well. The one thing better than achieving your goals is helping someone to achieve theirs. I love yoga. I enjoy running. But, kettle bells is my passion. I'm also passionate about nutrition, coffee, bacon, motorcycles, and red wine. Because, balance. Namaste!
---
Rebecca Pedersen
Fitness is a big part of my everyday life. I fell in love with fitness and want to share my love with others who want to become a stronger version of themselves. My journey to fitness basically started later in life. At first it was running, to which I thank my husband for. Later, my love for fitness classes begin after my first boot camp. After that first class, I was hooked. I soon got my group fitness certification and begin teaching classes. Classes which included; boot camp, strength classes, TRX classes, kickboxing classes, and most recently cycling classes. In 2009, I was introduced to Zumba and fell in love. I received my certification to teach in November of 2009. Zumba has become my passion. I love the music and the fact it doesn't feel much like exercise.
I am a Spearfish native and love all the Black Hills has to offer. I am an office manager for the business my husband and I own. We have two children and two grandchildren. In my spare time, I love hiking, camping and boating, kayaking, volleyball and most of all spending time with my family and friends.
---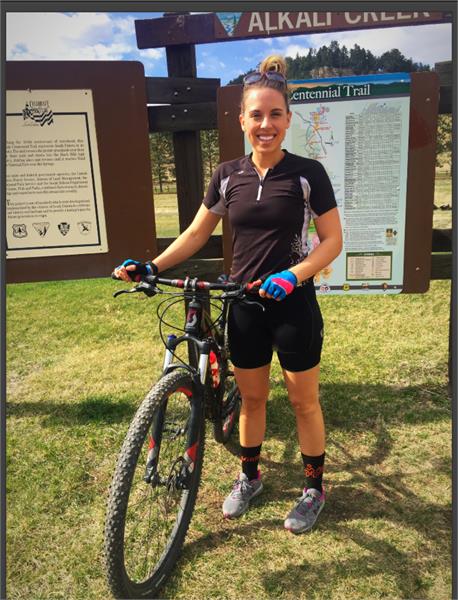 Darbi Anderson
I have a passion for any type of exercise. When I finished my college athletic career I was a little lost due to not having someone their to tell me what I had to do (AKA coach). This was a learning experience for me and I found that class settings were going to replace my love of being part of a team for so many years. As for biking, that began a couple years ago when my husband, Kellan, and a few friends conned me into buying a mountain bike. I fell in love with the sport and biking quickly became an avid rider. Next came gravel biking and the addiction grew. My husband and I had a little girl, Kaizlee, June 2017 which has been such a blessing, but as you parents know, she changed our workout any time any day schedule that we had before kids. Teaching a spin class has become such a fun outlet for me to get a good workout in while sharing my passion for biking with others! I am so excited to continue to learn as a coach and offer clients a challenging but fun environment! Hope to see you all on Thursdays 🙂
---
---
  Clarissa Thompson – E-RYT®500, YACEP®
Clarissa is a  teaching since 2014 and practicing since 2007.  Clarissa teaches flow classes influenced by all the energies around her so no two classes are ever exactly the same.   Finding yoga during a challenging time in college allowed her to discover her inner light and confidence, which she hopes to share with those she encounters on and off the mat.  She offers a variety of workshops, courses, and leads Moon Ceremonies. Additionally, she works collaboratively with husband Wade on special events and retreats around the Black Hills area.  Clarissa also travels and leads retreats and yoga teacher trainings through Light the Spark Within LLC, a company that she co-founded. She loves being in nature and enjoying all that the incredible Black Hills area has to offer.
---
I was born and raised in the Black Hills and have deep love and dedication to this place I call home. Whether splashing through towns and oceans on the coast or overlooking the Himalayas, I have been known to sputter some variant of the phrase, "This is nice, but have you seen the Black Hills?!" My family and I moved back to Spearfish in 2018 after being away for much too long.
Yoga has played a key role in my life. Not only did I find profound healing through the practice but a professional career as well. While in Laramie, WY, I owned and operated a yoga studio for 10 years and was one of the primary teachers and developers of dharma. The Institute for Awakened Living, a 200-hour yoga teacher training program.
Almost two decades ago, I tried out this yoga thing only interested in getting fit. Instead, I got a sacred space where I learned to work through personal pain and value and nurture myself. Originally trained in a flow-style practice, my training thereafter was focused on trauma-sensitive yoga and creating a space others can safely experience grounding, orienting, listening to their bodies, and healing. My classes are intentional, thoughtful, and down-to-earth. I do my best to create a casual environment in every class knowing that sometimes humor and graciousness are what get us through a class (and difficult life situations!).
I currently own and operate DirtBags BikeGear and am outside as often as possible, preferable on a bike with my husband, two children, and two dogs.
---
  Nicole Olson
Nicole started her yoga journey in 2016. She grew tired of her risky lifestyle and decided to find a practice that was more fulfilling and meaningful. Yoga became that for her. She recently received her 200 hours from Swastha Yoga International and decided that as a teacher, her goal is to give others the space and opportunity to be and explore their true selves.
---
 Wade Ellett – RYT® 200
Wade is a 200 hour registered yoga teacher , 200 RYT®, who recently completed his training and is excited to begin teaching at Spearfish Yoga & Cycle. Wade believe that practicing yoga helps him, and his students, do everything better.  Wade enjoys all the amazing outdoor adventures the Black Hills offers and is excited to bring his love of adventure to the mat.  
___________________________________________________________________________________________________________
Maggie Erlenbusch, RYT200
I was born and raised in Montana and recently moved to Spearfish to start my new adventure and attend college at Black Hills State University. I discovered yoga in 2017 and was intrigued by the ability to move and strengthen my body while also practicing mindfulness. After dreaming of teaching my own classes for years, in 2020 I decided to complete a 200 HR Yoga Teacher Training. My classes will create a space to explore movement within the body, understand the mind, and soothe the soul. I hope to share the sense of compassion I found for myself- with others. 🙂
___________________________________________________________________________________________________________
Cary is an enrolled member of the Sicangu Oyate. She is a Black Hills winyan, heart and soul. Born and raised in South Dakota, she believes in the importance of compassion and kindness. Cary works in many facets through her business, finding flow and seeking harmony every day. CAT Scratch Studios, Creative Arts and Therapies, links her passions of teaching, yoga+meditations, art and community. Cary is a certified educator, artist, community organizer and change maker. Engaging with people is vital for her. She perceives connections and strives to deepen them. She connects people through holistic, healthy living, creative community collaborations, teaching, art, and yoga+meditations to harmonize life. She is Yoga Alliance certified and believes in life-long learning. She is currently enrolled in additional teacher training to challenge her beliefs and to continue this growth process.
___________________________________________________________________________________________________________
Amy Fuqua- RYT® 200
I am grateful to the lively yoga community of Spearfish for teaching me how to move and how to be still in a way that restores the mind-body connection. I have loved all the forms of yoga I have practiced —hatha, yin, vinyasa flow, and even the Bikram class I once took in Atlanta, Georgia, at 105 degrees and about a thousand percent humidity. (The teacher's cues sounded like music.) The challenge of the teaching myself the full primary series of Ashtanga is probably what got me though the pandemic. Now my favorite thing is an energetic flow that plays on the broad pattern of Ashtanga but with unexpected elements for the sake of delight—and a good challenge.
___________________________________________________________________________________________________________
Nicole Olson